Home » Our solutions » SAP Business One » SAP Business One

SAP Business One
SAP Business One (further referred as SBO) is specifically intended to small and medium-sized companies. IFSZ Ltd. has more than 25 years developing and consultancy experience in ERP systems. Based on this experience IFSZ Ltd. recommends SAP Business One to this category of companies.
Which companies do we offer SBO?
To those ones who do not have such a complete ERP system which supports financial, logistical and even production control business processes on request and which operates on a central database and they are afraid of affording this kind of software solution is the unique privilege of large companies.
To those ones who have ERP system, but this system does not meet today's requirements and its functionality does not cover all the activities of the company.
To those dynamically developing companies where the complexity of company activity changes so rapidly that the regulation of business activity make difficulties without an appropriate ERP system.
To those ones who work with specialized software of their business field and they feel to shortage of an ERP system which is able to communicate to their specialized software.

Why do we offer SBO?
Rapid and low cost implementation, easy to study its use
efficiently supports all business processes
adapts to the growth of the company
easy to interface to other specialized software
customization can be done on user level as well

SAP Business One modules: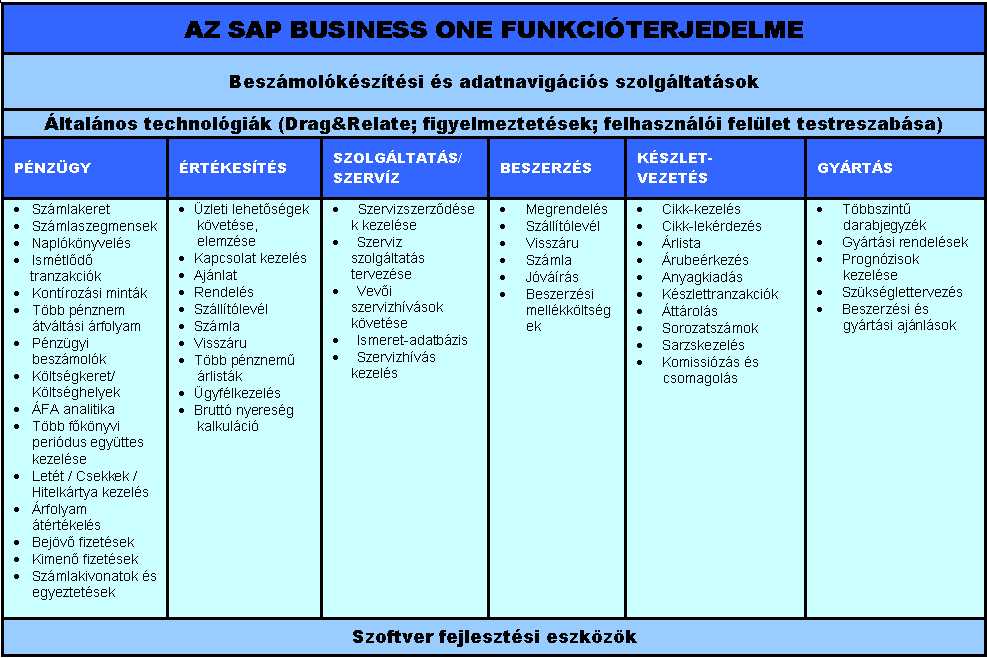 SAP Business One Add-on Modules:



Extensions (Add-ons):

Satisfying the unique requirements of every company is possible by the usage of the development tool (SDK) of SAP Business One, extended functionality can be added which is beyond the standard SBO scope. These extensions are fully integrated with SBO and they appear as connected modules.
SAP Business One does not have the functions for managing cash desks and electronic bank connections. Therefore we developed these two extension modules and we also made the system capable to connect to web-stores.

Above all we sell the Fixed Asset module of one of our partners.